Regular price
Sale price
$19.99 USD
Unit price
per
Sale
Sold out
C.O.A.S.T. Facial Toner Spray with White Willow Bark and Colloidal Silver 🌿
For Combination Normal/Oily, Acne-prone and Sensitive Skin Types (C/O/A/S/T) 🌿

4 fl oz / 120ml

Made to order, by hand, in small batches to ensure freshness and maximum benefits. Hand blended with beneficial essential oils to Great for All Skin Types and an awesome multipurpose product!

A custom blend of skin-loving essential oils is used in this spray, leaving behind subtle hints of: rose, green tea, jasmine, banana and neroli.

🔍Made with:

☞ White Willow Bark
✴ Helps reduce acne and excess oil, as well as wrinkles and signs of aging
✴ Reduces appearance of pores, and evens out skin tone while promoting increased firmness
✴ Anti-inflammatory and antibacterial
✴ Protects against photodamage and fights free radicals

☞ Witch Hazel (alcohol-free)
✴ Helps relieve inflammation and reduce skin irritation
✴ Can benefit noninflammatory acne (blackheads and whiteheads, too)
✴ Anti-inflammatory and antibacterial

☞ Rose Water (organic/locally sourced)
✴ Helps maintain the skin's pH balance and control excess oil
✴ Anti-inflammatory
✴ Helps to clean pores, hydrate, revitalize and moisturize the skin
✴ Tightens capillaries, reduces redness and blotchiness

☞ Mint Water (organic/locally sourced)
✴ Fights oxidative damage and UV damage
✴ Helps to prevent acne and fade acne scars
✴ Boosts collagen production and improves skin elasticity

☞ Colloidal Silver
✴ Anti-inflammatory, anti-fungal and antibacterial
✴ Has a unique way of combating bacteria, which essentially works by cutting off cellular respiration to acne-causing bacteria. Its properties keep bacteria and fungus at bay, fostering a healthy microbiome (resulting in healthier and more resilient skin)


☞ Can be used alone, or in conjunction with other MWLAS™ products. Created with the complementary steps in mind, this is recommended as *STEP 3* in the customized MWLAS™ routine.

🌿Works great when used with the (C/O/A/S/T) Skin Rejuvenating Oil!
*A quick note: Many label designs are in the process of being updated (and this is one of them). The label showing now is the original label, but you may receive the new label style. Photo updates will be coming asap!*
_______________________________

☞ If you have any metal allergies but are interested in this product, please message me ASAP. I'll be happy to omit the colloidal silver from your formulation. If more than 12 hours passes (after your order has been placed) with no notice, default ingredients will be used.

☞ To Use: Shake bottle. Spray onto a cotton ball/pad, wash cloth or directly onto face. Apply toner across face in upward motions (avoiding the eye area) until the cotton comes up clean. Use after the Hydrating Facial Cleanser and before Hyaluronic Acid/Skin Rejuvenating Serums.
_______________________________

🔍 To learn the skin type formulation recommended for you, please refer to the MWLAS™ visual quiz shown in the photos, or message me and I'll be happy to assist!
_______________________________

🔍 In an effort to bring you the highest quality products, I've searched far and wide for a way to preserve these formulas in the most gentle way possible. After testing several different preservatives, I settled on Optiphen+.
To learn more about Optiphen Plus click here

Share
View full details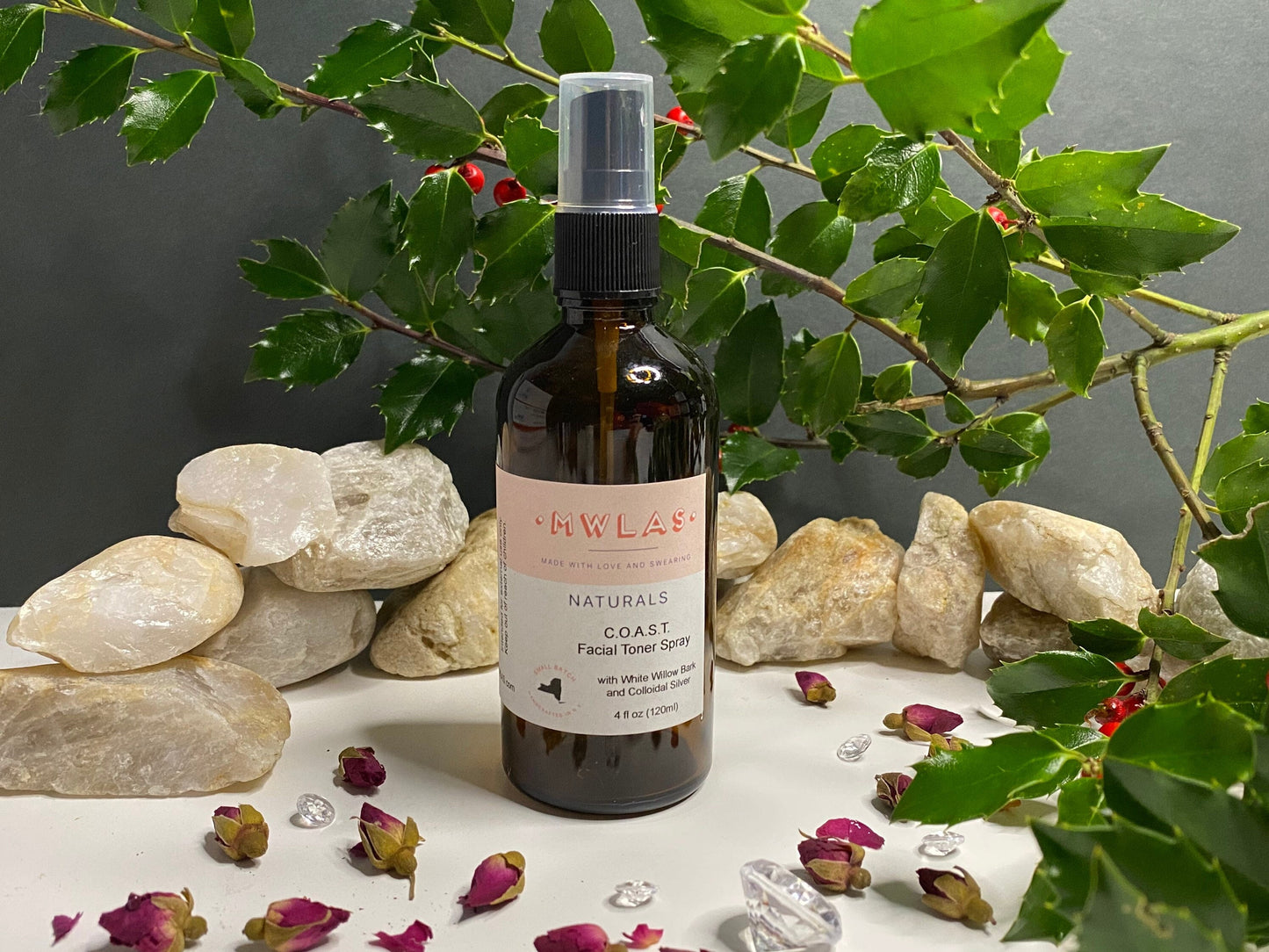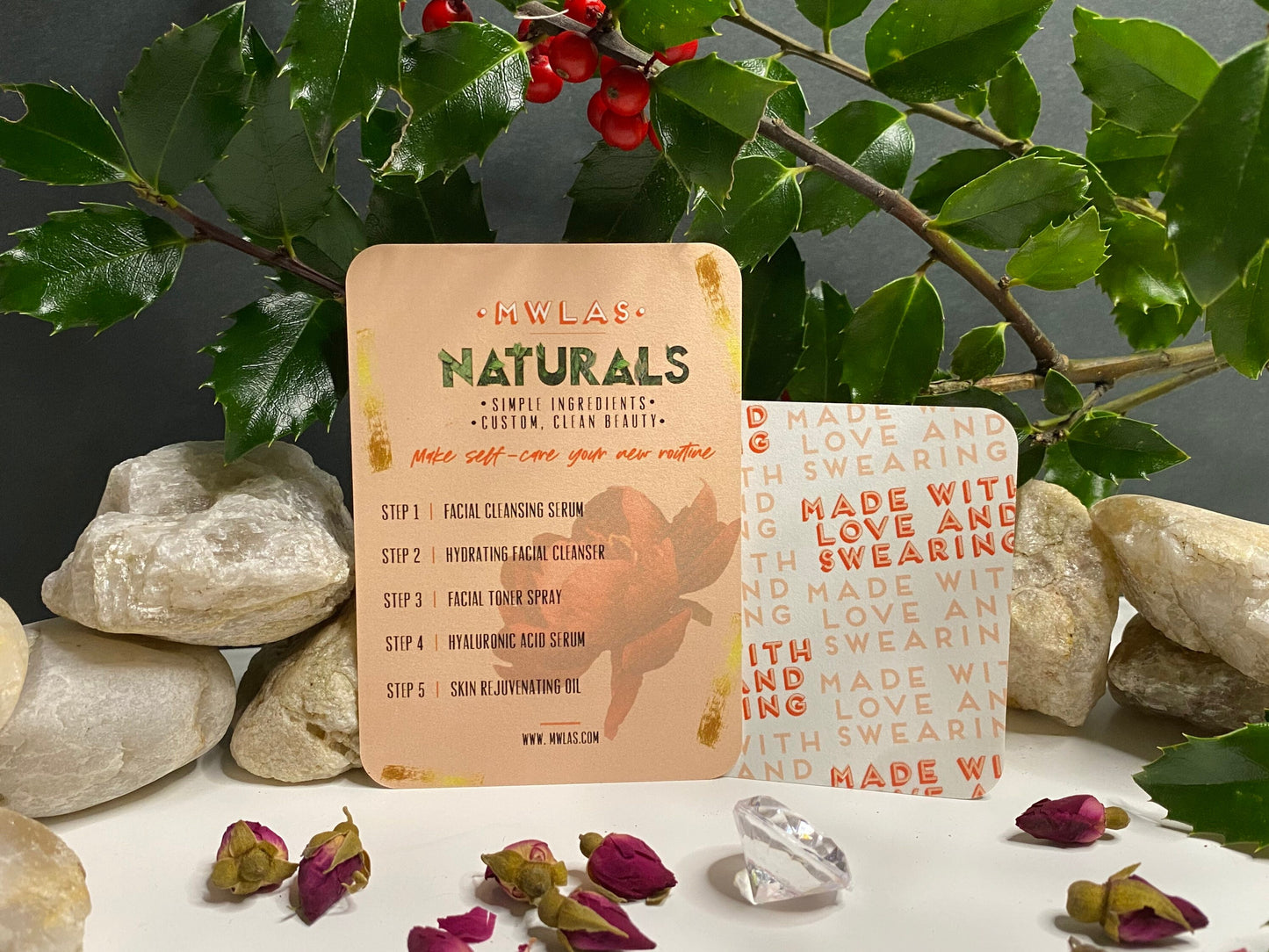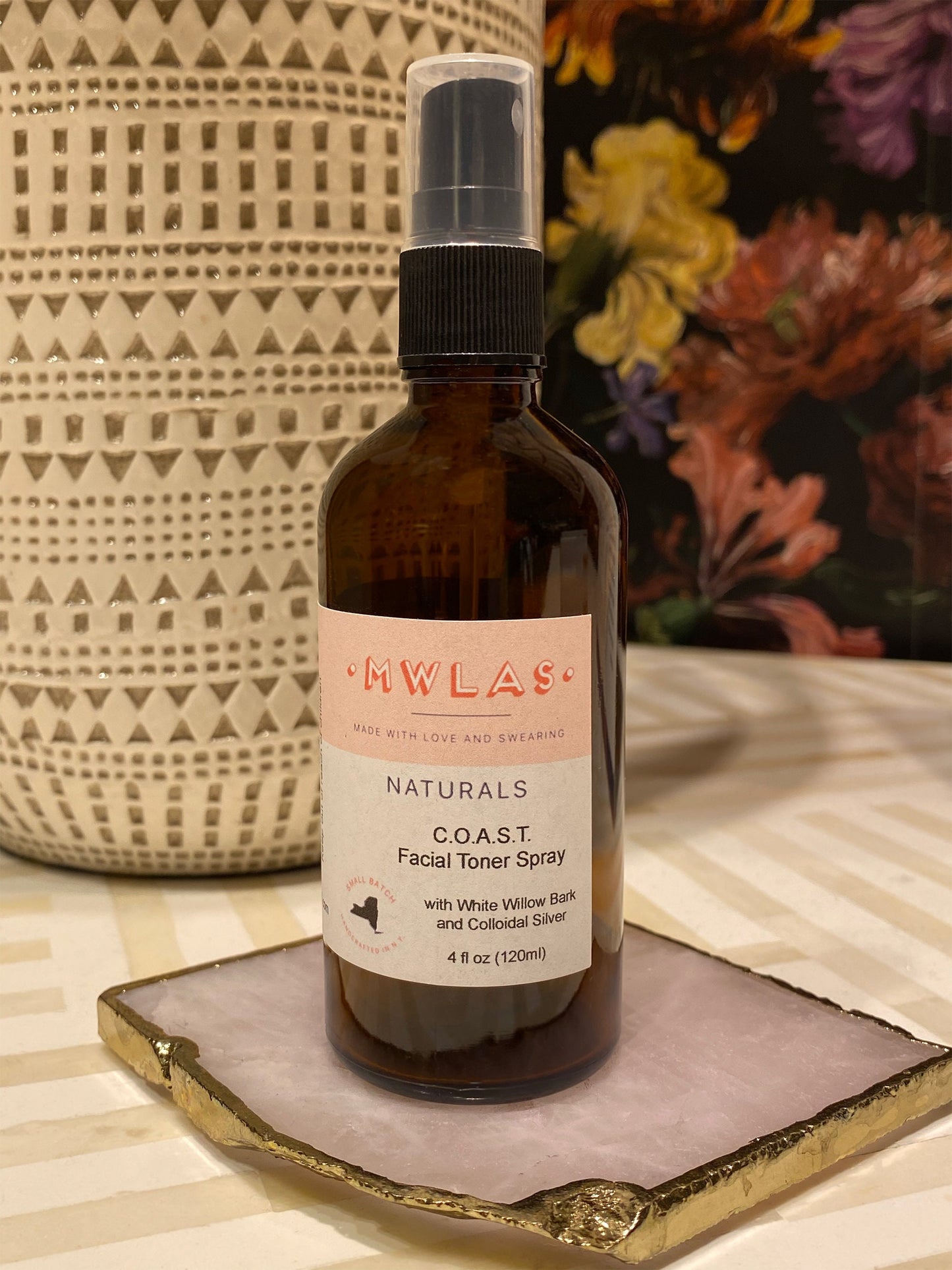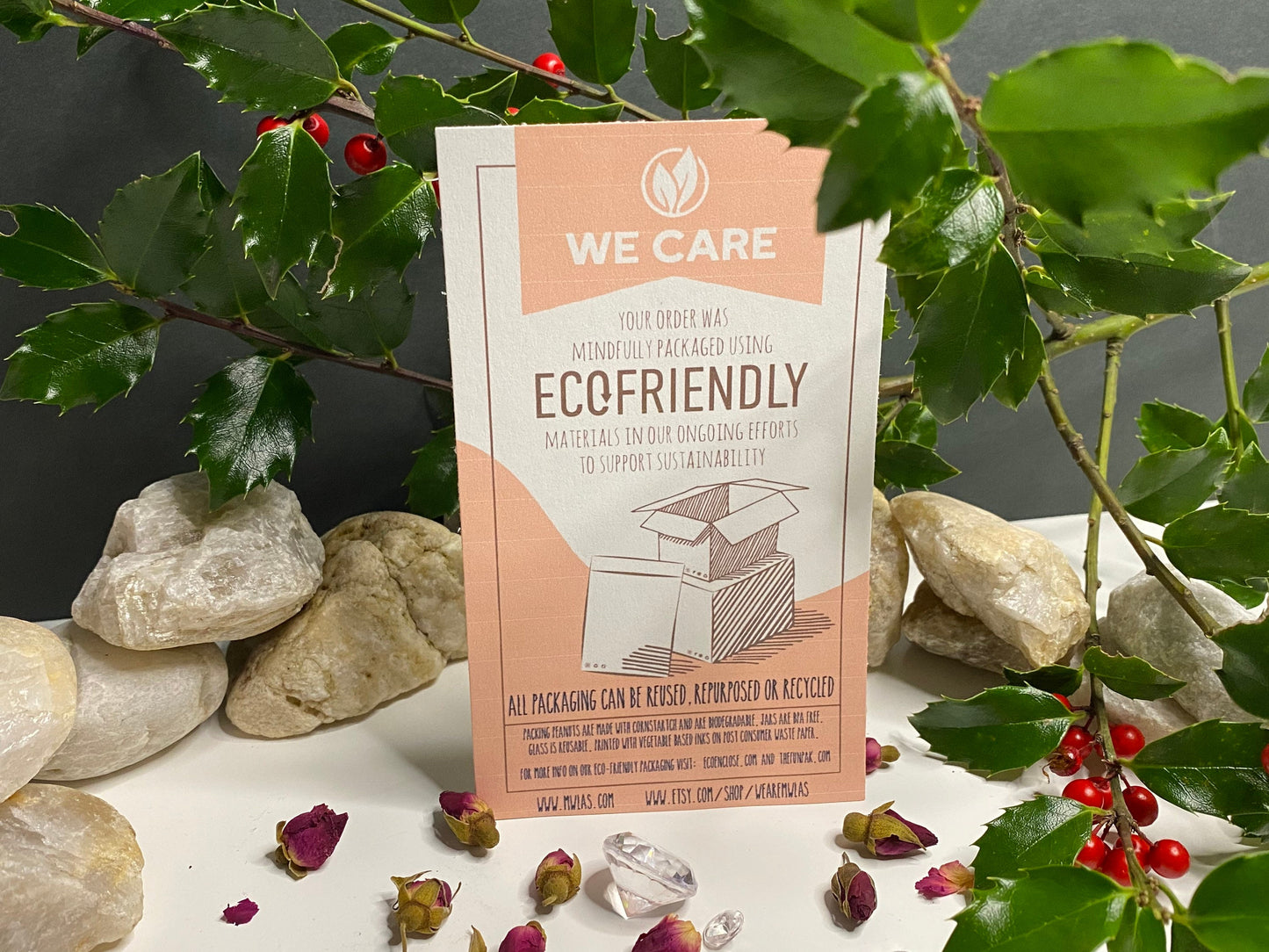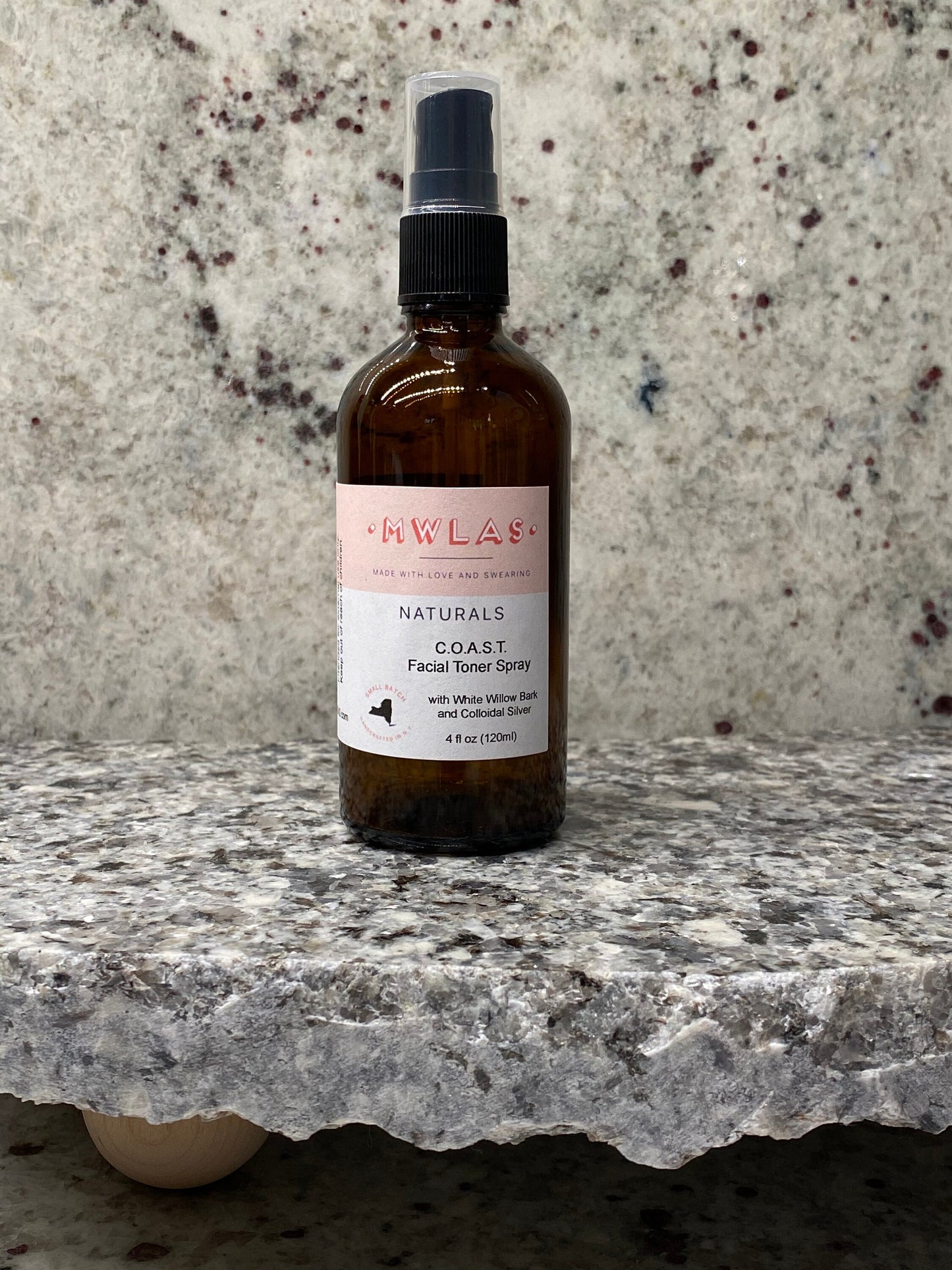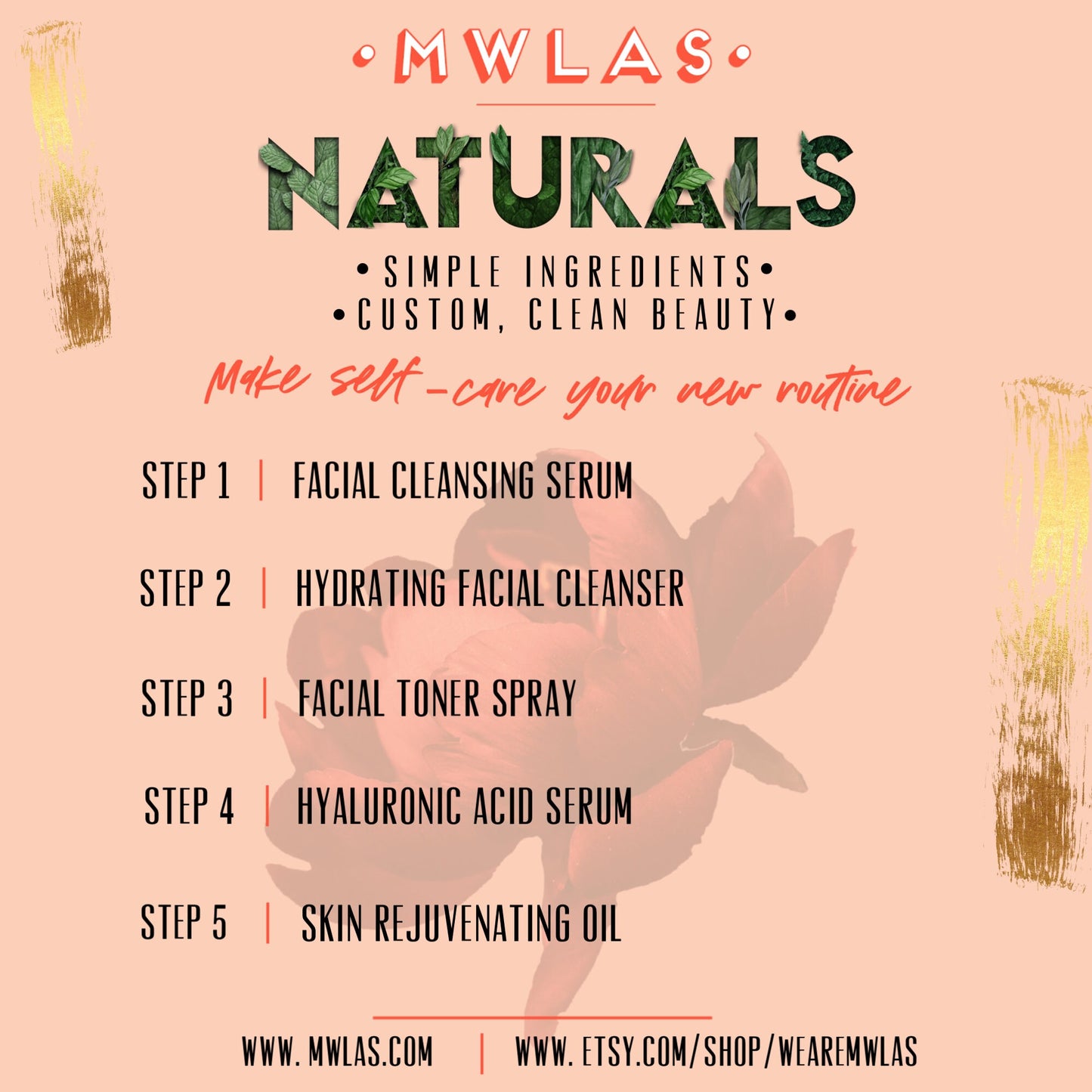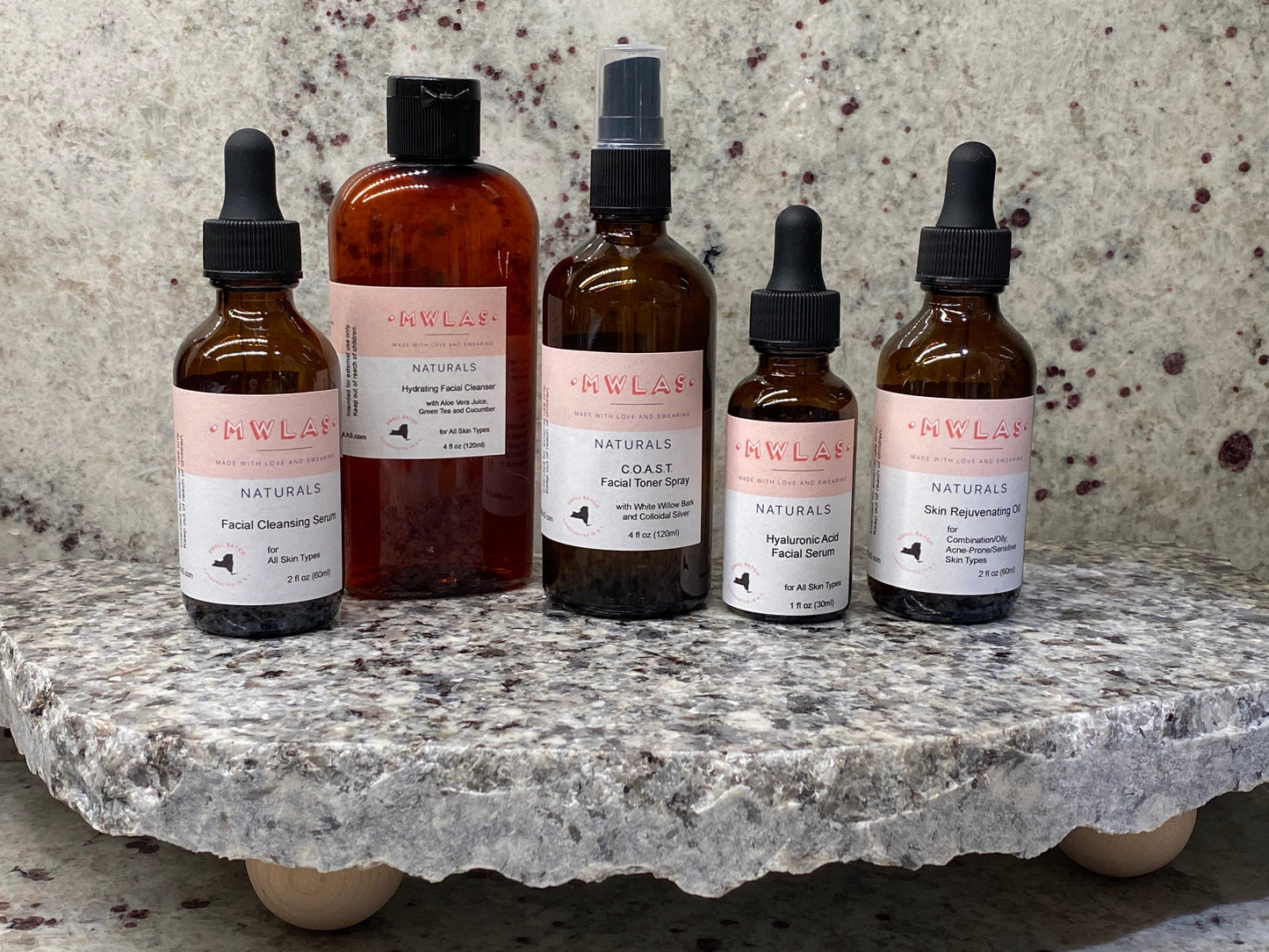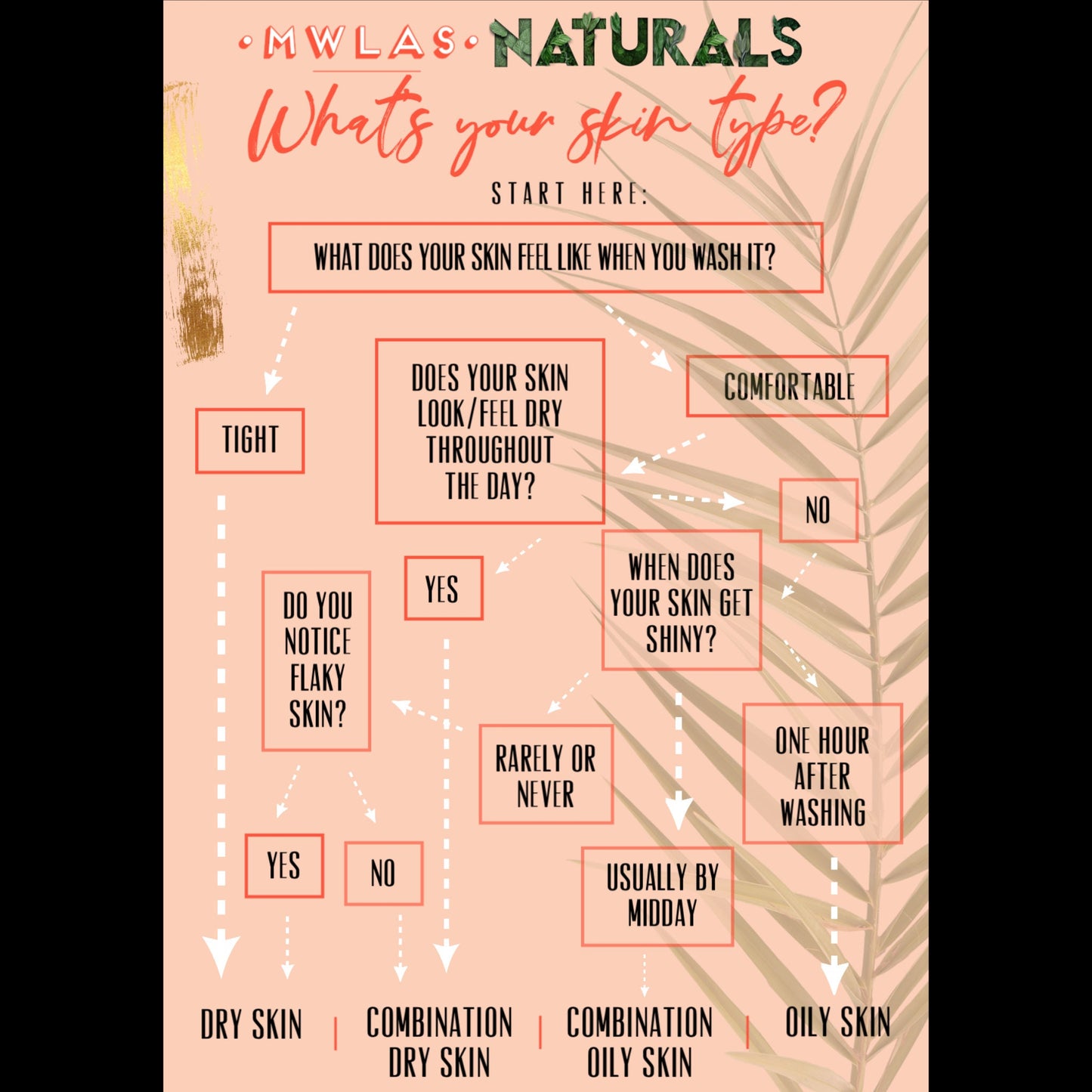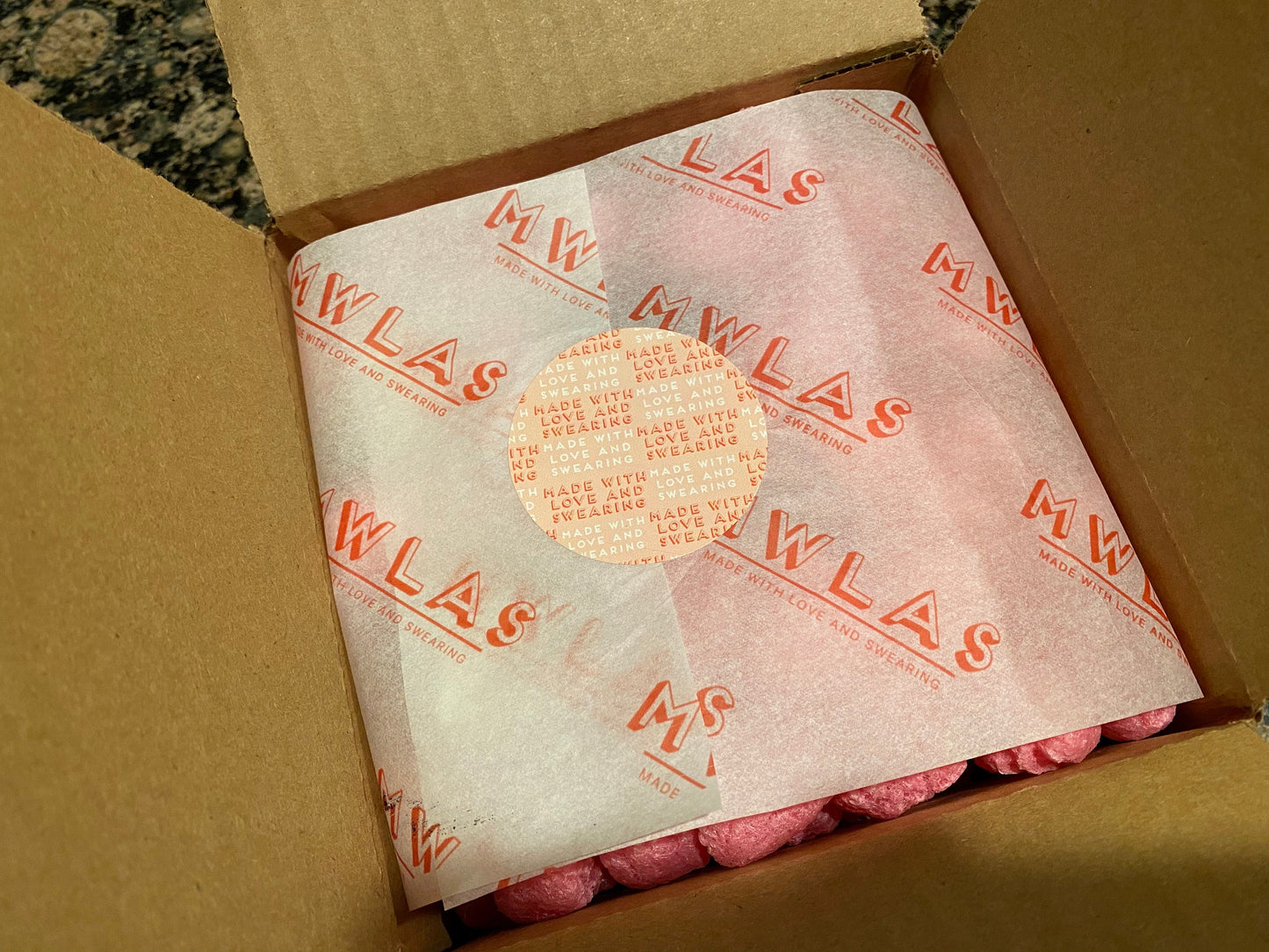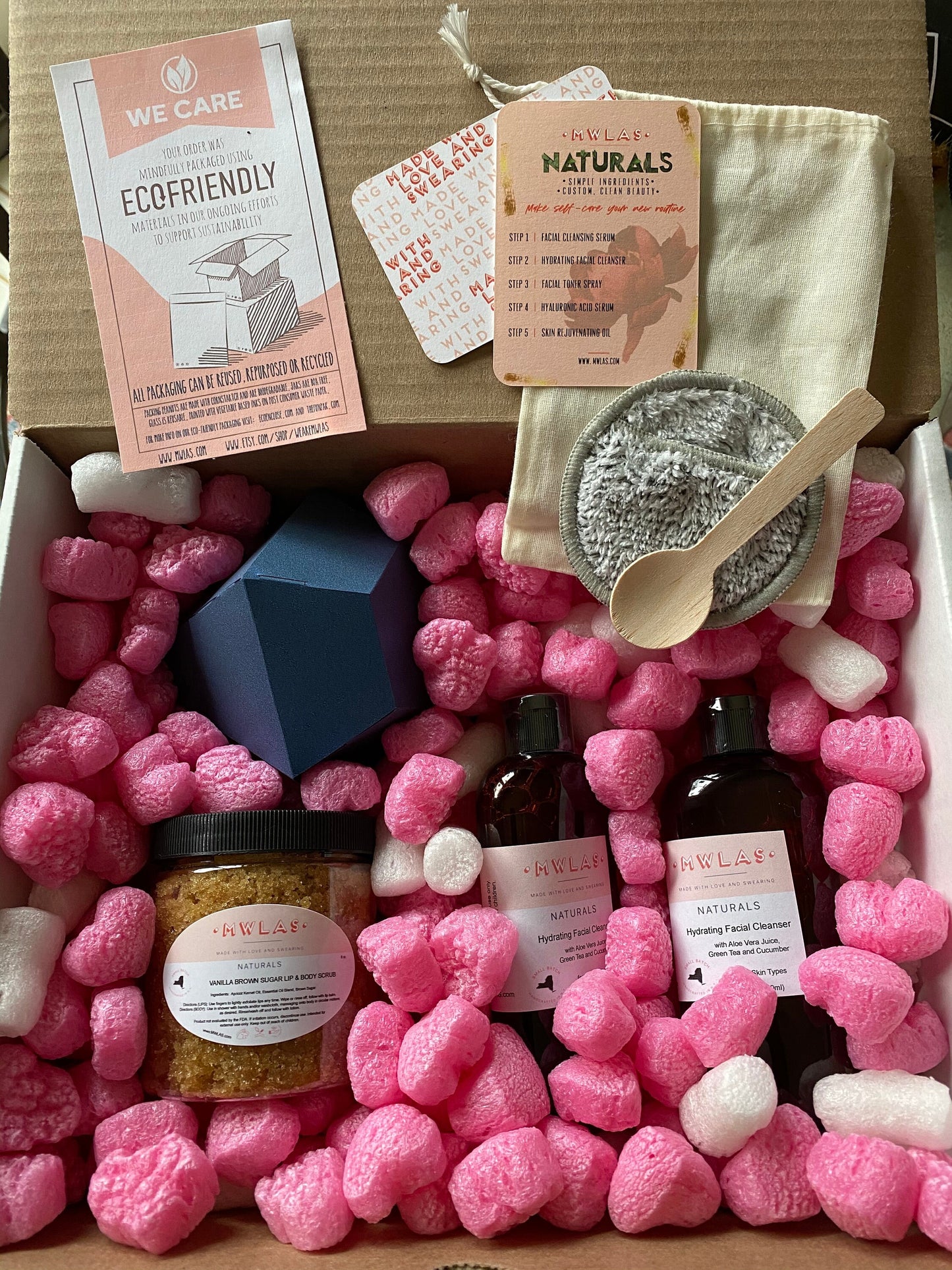 Collapsible content
SUSTAINABILITY

Hand crafted in small batches, every product is ethically and sustainably sourced.

100% Cruelty Free: The only animal I test on is my husband, who's THE G.O.A.T.
REQUIRED DISCLAIMERS

☞ Product not evaluated by the FDA. If irritation occurs, discontinue use. Intended for external use only. Keep out of reach of children.
☞ This is not a "cure" for any illness, disease, or condition. Please consult a medical professional if you have any additional concerns.
☞ MWLAS™ is not responsible for any allergies and/or usage issues that may occur.
☞ Full list of ingredients for all MWLAS™ products available here